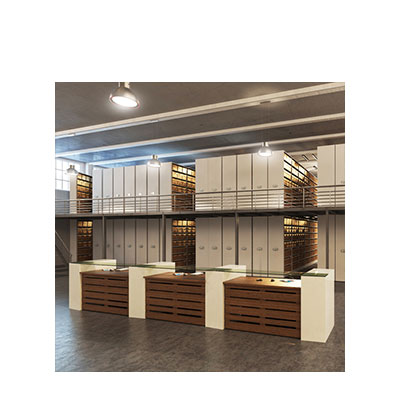 MOBICAB DD is equipped by electronic controllers that are extremely easy to operate even with full hands.
Mobile bases are equipped with Motor Current Monitoring System. (MCMS)When the mobile base is suddenly hit by an obstacle, the motor will stop and make a backward return between 5 to 10cm. Bases are also equipped with safety sweeps (photocells) that will assure the user of maximum safety while working inside the aisle.
Advantages:
No need for costly heavy-duty mezzanine structure
Storage capacity gain up to almost four times
Easy operation
Mobile cabinets with high loads do not cause a problem because of the Soft Start & Stop.
The speed is constant regardless of the weight or length.
One touch operation even with full hands thanks to large ergonomic & cleverly designed keypads.
In addition, lighting can be integrated to the system in a way that only the needed aisle would be lit to reduce power consumption.
The system is manufactured following international standards: UL – CE – GS TÜV.
Thanks to the "Soft Start, and Stop" we guarantee that goods won't fall from shelves especially when you store valuables.
It is also interfaced with environmental and security systems such as: lighting, humidity control, ventilation and fire alarm among other features.Double sided operation
Control aisle lighting upon operation
Safety sweeps
Movement detection (ADS ; EDS)
Passive security
Movement without vibration
System interface
Motor current monitring system (MCMS)
Stored articles exceeding the measurement of the shelves are protected from accident thanks to the user-friendly programmable CPU; the system can be programmed to stop at a certain point in order not to crash the so-called article.
Example of a program: After working hours, the system turns to night shift and the mobile cabinets are all closed in order to prevent any intrusion. Alternatively, mobile cabinets can be opened at night to keep the system ventilated and protect stored goods on the long term.